OFF THE GRID - THE 2022 FORD F-150 RAPTOR
There are occasionally moments in life when it dawns on you that you might just be in over your head. When things have gone ever so slightly awry. You find yourself in a bit of a pickle. 
I am pondering this very predicament in the Ford Raptor. I am 25 miles up a muddy dirt road at the Knoxville Off-Highway-Vehicle Park in Northern California, otherwise affectionately known as a redneck yacht club with its miles of dirt trails. After a month of record rainfall, I rather underestimated the entire depth of extensive trough of water. The wheels of the Raptor are spinning, orange-brown mud is flying everywhere. Every time I hit the gas I seem to be sliding further in. It's 4pm on a wintery Tuesday afternoon in January. I am all alone, no cell phone reception and I haven't seen a soul all day. It's a long walk for help and I didn't exactly bring the most appropriate footwear. Mild levels of panic are beginning to set in. "Well Jamesy boy, you have really gone and done it this time," I am muttering to myself. But more on this later….
When I was a young boy growing up in England, we would get all the American television shows. I was obsessed with Californian sunshine and endless beaches. Everyone was tanned and cool. The cars were huge, and the movie stars drove tricked-out pick-up trucks with KC lights. Everything in America was bigger, brasher, more colorful, and way more exciting than the grey, rain-soaked suburban Britain where I lived. But most of all, I was smitten with American 'Trophy Trucks', they represented freedom and adventure. They were exciting, capable, and promised a world of unlimited opportunities on miles of endless dirt roads, highways, and deserts. Tamiya produced a scale model radio-controlled model Ford F150 XLT. I was utterly obsessed with it. Standing in my blue anorak in the drizzling rain, I would stare at the fabulous box in the window of my local Model Shop fantasizing about such a wonderful vehicle and the world of opportunity and adventure that would await.
The Ford F150 Raptor that arrived at my house last week is just such a thing and promises a world of adventure. I feel like a young boy again, like I am 10 years old, staring at this fabulous larger than life truck in driveway that I am about to spend a week with. The funny thing is that I am now living in California, and it's been raining for weeks. Go figure. But then again, when life gives you lemons as they say. I look at the 37-inch BF Goodrich All Terrain tires, it occurs to me that all I need is to find a muddy off-road trail.
Originally introduced in 2009, the Ford Raptor was designed as a high-performance version of the F150 inspired by desert racing series such as the Baja 1000. The Raptor, drawing it's name from the F-22 Raptor tactical fighter, was specifically developed for off-road use with higher suspension clearance and off-road tires to tackle tougher terrain at high speeds, jump and catch air. New for 2021, this is the third iteration of the Raptor, completely redesigned and incorporating new performance hardware and Ford's latest technology.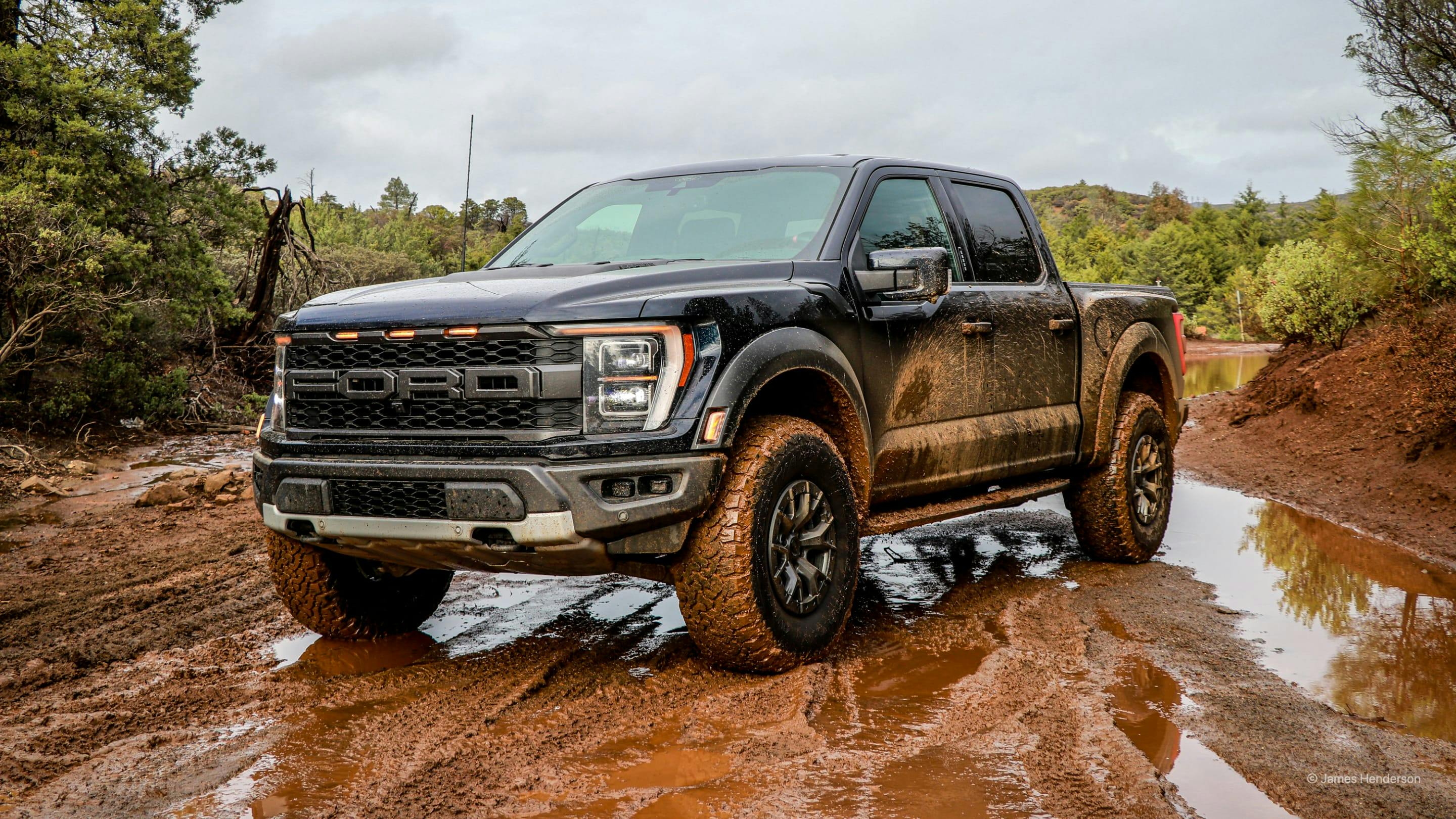 Ford has really enhanced the front end of the Raptor with the blacked-out grille and headlights that accentuate the width of the truck, giving it a tougher more planted stance. Overall, the front end is much cleaner and less busy, than the 2017 version. The power dome hood also has a new black heat extractor and side vents, that take their design cues from the F-22 jet namesake. The three orange running lights are wider, more intentional and give the Raptor that commercial, heavy-duty feel and they align nicely with the orange lights that frame the headlights, which further adds to the wide appearance. The 2021 Raptor also incorporates a wider front skid plate that offers increased protection, both in width and depth. The front and rear bumpers are made of durable steel with higher ground clearance and approach angles built for the rigors of off-roading. The dual exhaust tips look like cannons and are tucked up high against the rear bumper to provide additional ground clearance. The tailgate also features the same black Ford applique that accentuates the width from the rear. 
The Raptor is only available in the super-crew 5-1/2ft bed configuration, and my demo truck came in the Antimatter Blue, which has a slight pearlessencent effect in bright light. New for the 2021 version, the Raptor is available for 35-inch or 37-inch tires, which are the largest fitted to a production light-duty truck. There are also three 17' wheel options, two of which have bead capability to enhance durability and provide the option to air down the tires for greater traction in sand, snow, or muddy conditions. 
The Raptor that I tested also came equipped with the 37 Performance Package that includes the massive 37-inch all-terrain T/A KO2 tires, specially designed by BF Goodrich, and sport tuned shock absorbers. With the 37-inch tires, the Raptor has 13.1 inches of running clearance, 33.1 degrees of approach angle, 24.9 degrees of departure angle, and 24.4 degrees of breakover angle. The significantly adds to the off-road capabilities, and the Trophy Truck aesthetic.
The interior of the 2021 Raptor is dramatically improved with some unique and durable surface finishes, that are hard wearing but look and feel great. The 37 Performance Package on my demo included the Recaro seats in leather and Alcantara suede with blue accents that not only look classy, they are also supportive and extremely comfortable. It also came with the Rhapsody Blue leather console and carbon fiber interior package with low gloss, black tint accents on the doors, instrument panel and console. The front door handles have also been redesigned to look more integrated and the trim and moved and aligned with the window which is a huge improvement. These additions are a major upgrade on the interior. 
The new fully digital 12-inch instrument cluster is also a significant upgrade from the prior generation giving the Raptor a much more modern high-tech feel. The display features some very cool Raptor specific graphics and animations on start-up, when changing drive modes and on shut-down. The gauges are clear and uncluttered, with large digital displays of speed and rpm, and the display can be customized to include trip computer, turn-by-turn navigation and off-road data.
The new 12 'inch center touchscreen dominates the dash, the resolution is excellent and it is easy and intuitive to use. It also has a split functionality that can switch between a combination of navigation, music or truck features. The standard SYNC 4 system has enhanced voice control, real time mapping and customizable information on demand. The system fully integrates with Apple Carplay and there is a handy wireless charging pad as well as USB ports in the compartment in the center console with an elegant carbon fiber trimmed sliding cover to discreetly stow your phone.
The Raptor comes with standard over-the-air software and technology updates and there is also a range of features available through FordPass, including remote locking and unlocking, the ability to check tire and fuel pressure as well as zone lighting and trailer theft alerts.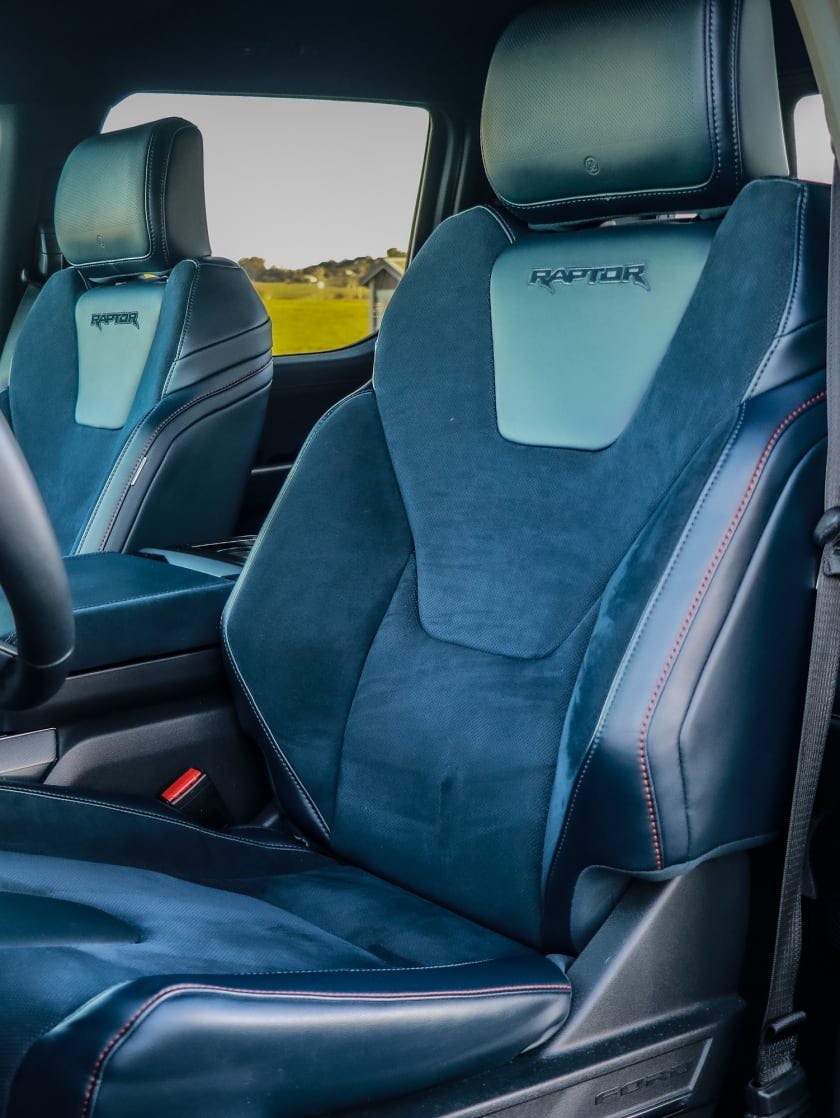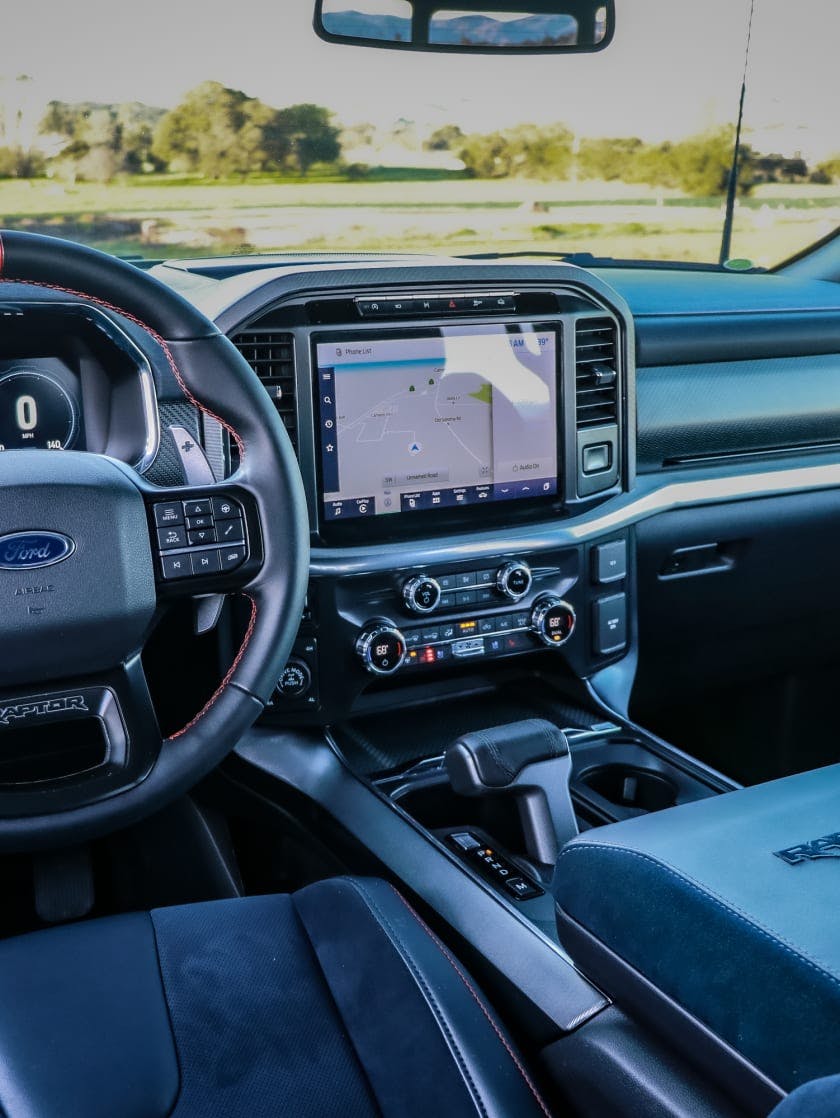 Ford has really gone to town on the audio, with an excellent B&O Unleashed sound system. It has 18 speakers, to include a three 3.1 inch mid-range speakers in the dash, 6×9 midwoofers in the front doors and 6.3 inch coaxial speakers in the rear doors. It also has tweeters in the A-pillars and accent speakers in the ceiling above each seat and in the head restraints. The fidelity is superb, it is crisp and clear with rich and deep base, which comes from what is called an externally-coupled sub-woofer system. Perfect for tailgate parties and extremely timely as I am going through a bit of a country music phase, right now and the Raptor felt like the perfect auditorium for a bit of Hippies & Cowboys by Cody Jinks.
This would not be an F150 without prodigious amounts of storage, including an enormous center console storage that can also convert to a small desk or work surface when the transmission control is stowed. 
The Raptor is powered by a third-generation twin-turbo 3.5-liter EcoBoost engine, which produces 400 horsepower and 500 lb-ft of torque and includes new high-power fans incorporated into the cooling system for extended high-performance use. Power is transferred to the whopping 37-inch tires via the Ford-built 10-speed automatic transmission, which is mated to a torque-on-demand transfer case. The Raptor includes standard electronic locking rear differential and Torsen front limited-slip differential. 
On the road the Raptor is deceptively fast.  I thought that the 3.5 liter EcoBoost might feel a bit underpowered for a truck of this size, but it really doesn't, and it performs extremely well. You just need to get used to holding on to the revs a bit longer and it's extremely responsive, with plenty of power on tap. I found myself opening the small rear window, switching to Sport Mode, and listening to the glorious sound of the exhaust note, which Ford have absolutely nailed. It sounds amazing. 
The Terrain Management system on the Raptor offers seven different drive modes that can be adjusted to cater to a diverse array of driving conditions and include Normal, Sport, Off-Road, Slippery, Tow/Haul, Baja and Rock Crawl. Each drive mode adjusts the steering feel, transmission, stability control, exhaust and active damping system. They are also accompanied by very cool animations in the digital cluster display. 
The exhaust system for the Raptor has been completely redesigned, with a new three-inch equal length system that incorporates a unique 'trombone loop', active valves and a pass through muffler to improve sound quality. The exhaust note can be configured between Quiet, Normal, Sport, and Baja modes. In the Sport and Baja mode, which cautions to be only used off road, the Raptor sounds symphonic. On one of my trips up through Pope Valley, I was able to wind the Raptor up the rev range, with the small rear window, just to listen to the wonderful exhaust notes. Power really starts coming in at around 3,200 and when you hit 4,100 the exhaust note is absolutely glorious. 
As expected on a truck like this, the Raptor has a cavernous gas tank with 36-gallon capacity, and Ford project an estimated 500 miles on a full tank. The raptor has towing capacity of 14,000 pounds and a max payload of 3250 pounds.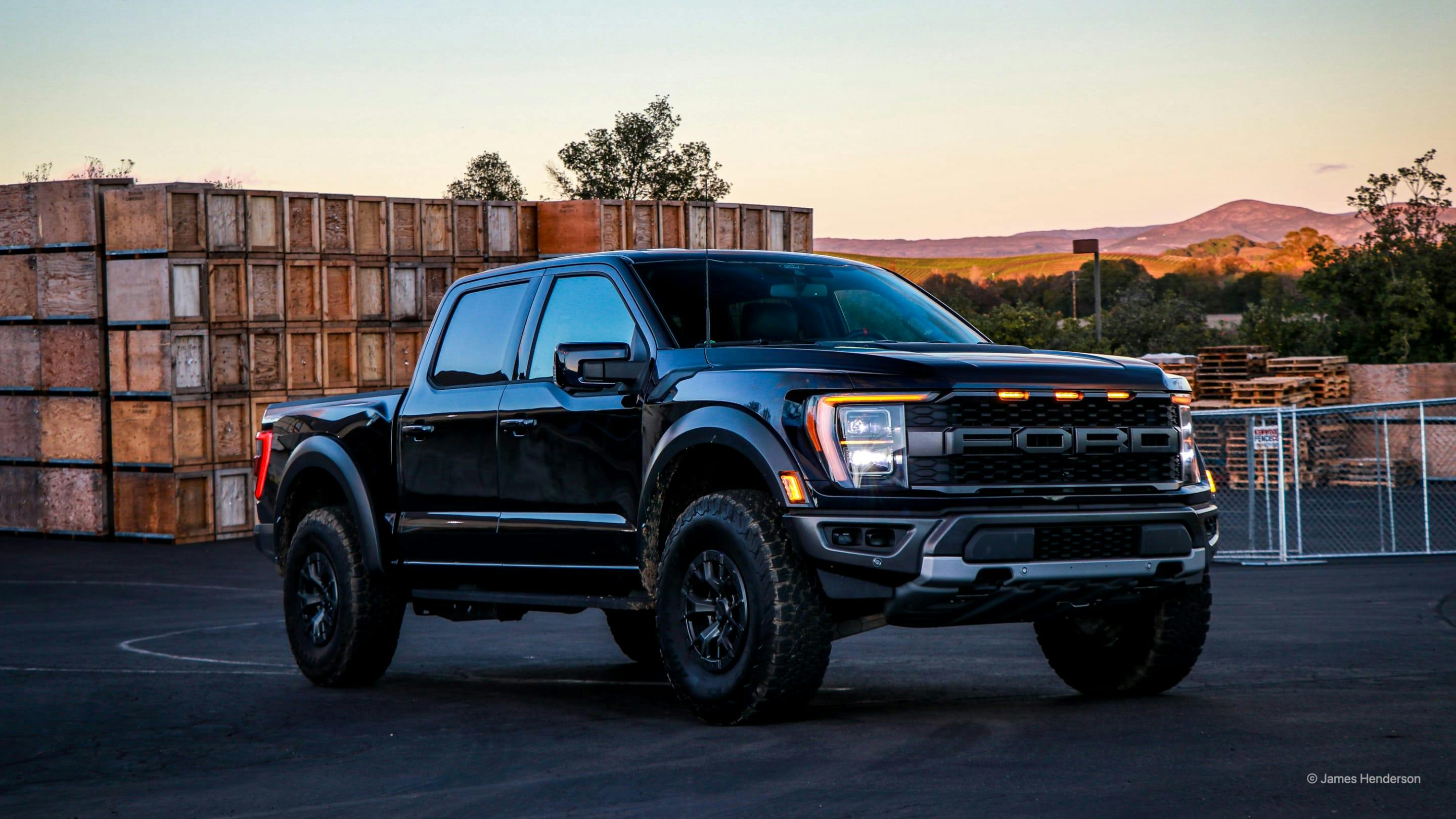 Designed for punishing off-road use, the Raptor features a high-strength fully boxed steel frame with an aluminum and composite body, with a much more capable suspension set up than the standard F150 with taller shock towers and strengthened rear control arm mounts. Significantly enhancing its off-road capability, one of the main features of this latest generation of Raptor is the all-new five-link rear suspension, that features improved wheel travel and electronically controlled next-generation FOX™ shocks with Live Valve™ technology. The largest ever shock absorbers are designed to react more quickly to terrain changes, and readings from suspension sensors adjust damping rates at an incredible 500 times per second. The suspension design, coupled with enhanced engine management software enables more torque to be transferred to the rear wheels for better traction, rapid acceleration and improved throttle responsiveness, as well as providing for improved comfort, handling, and stability at speed. 
In true trophy-truck style it also comes with the massive 37-inch tires, which is first-in-class on a production truck, and wheel travel is 14 inches at the front and 15 inches at the rear, which overall is 25 percent more than the first-generation Raptor. 
For more extreme off-road use, the Raptor comes with Trail 1-Pedal Drive, that modulates acceleration and braking for activities like rock-crawling, it also has a Trail-Control, which operates very similar to a cruise control for off-road use, managing both throttle and brakes to allow the driver to focus on steering and navigating through tricky and challenging terrain. The 360-degree camera package also provides an in-cabin view of obstacles around the truck on the large 12 inch center screen and in the front camera view provides a real-time tire track overlay to show the path of the Raptor as a virtual spotter.
For those wanting to camp, host tail-gate parties or utilize the Raptor as a mobile workshop, it also can be used as a mobile generator with a Pro Power system that can be used to run power tools, lights, and other equipment. Ford claims that this system on the Raptor offers best in-class exportable power.
Meanwhile, back at the Knoxville OHV park… peering out of the window, I am probably a foot or so deep in the muddy puddle, which feels more like a small lake. I take a moment to collect myself. I drop the Raptor into 4 Low, squeeze the throttle and feel the massive 37 inch tires begin to get some purchase, gradually squeezing the throttle some more the Raptor starts inching forward and literally ploughing through the mud and hauling itself up an incline out of the water hazard, really pretty incredible. My pulse returns to a level of normality and I can feel a wave of relief. In all the excitement, I jump out to survey the scene, entirely forgetting about my inappropriate footwear, which was clearly a minor mistake as my feet sink into the mud and I feel the cool water permeating my running shoes and soaking into my socks. It's well worth it though, the Raptor looks resplendent spattered in orange mud and very much in its element. Man, I love this thing and could drive these trails all day long. 
After a week with the Raptor, I have become so used to the size and dimensions. You feel almost invincible, coupled with amazing agility for a vehicle of these dimensions, that you can tackle any road or terrain. Jumping back into my Range Rover, which is also a good-sized car, it almost feels a bit small. It feels a bit like switching from your ski-boots after an amazing week of skiing back to a pair of sneakers.
The Ford F150 Raptor has a base price of $65,375 and my demo truck came in the Antimatter Blue metallic, with the High Equipment Group ($6,150) and Blue interior package with Rhapsody Blue Recaro Seats ($2,395) and the Raptor 37 Performance Package ($5,250) which brought the total price to $80,865. 
I just read about the launch of the new Bronco Raptor and the F150 Raptor R, which is set to debut this summer. I can't wait to try them.  
For more information visit: Ford Raptor
Photographs by James Henderson