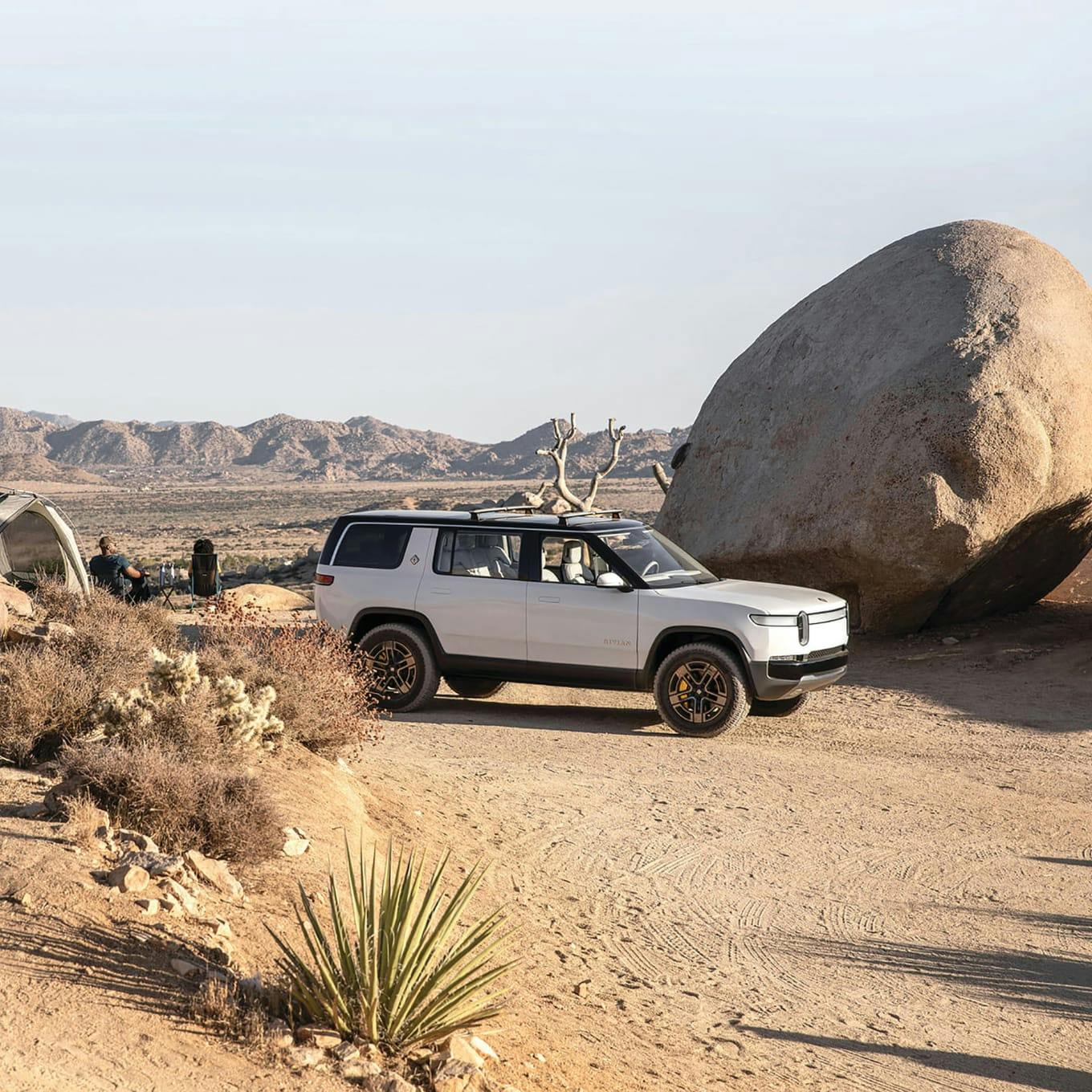 On the Road
Looking for a new ride? Your next car may just be electric.
Over 100 new electric vehicles are expected to debut in the next two years.
Electric vehicle sales in the United States are surging. Registrations have more than doubled in the past year, as has market share, despite pandemic-related supply chain issues that have plagued the automotive and high-tech sectors. While fully electric cars account for just three percent of overall automotive sales, this recent growth is significant. Why? New consumers are adopting battery power, something necessary to stem the global environmental degradation wrought by burning fossil fuels. The past decade of investment and innovation that automakers have made in battery power is finally paying off in compelling product categories that consumers actually crave. Over 100 new electric vehicles are expected to debut in the next two years, from small hatchbacks, to sports cars, to luxury sedans, to every manner of SUV. Here are three of our favorites.
BMW IX: From its enhanced "double kidney" grille to the daring taillights, the iX breaks with exterior styling tradition. Without an engine, gas tank, or exhaust system dictating convention, the wheels are pushed further out. What's more, the extended cabin is a special place to be, with veloured fabric on the seats and dash, beveled glass on the shift knob and auxiliary switches, and a giant, curved LCD instrument panel. With 516 hp delivered to all four wheels, it provides sure-footed, all-weather grip, scoots from 0-60 mph in 4.4 seconds, and will travel 300 miles on a single charge. Starting at $84,195 bmwusa.com
RIVIAN R1S: Many electric vehicle startups have come and gone in the past decade. With billions of dollars in investment from Ford and Amazon, Rivian is likely to persevere. Its first vehicle, the R1T (SUV version) will be a potent pickup. With a motor at each wheel, it's remarkably sure-footed. And with a shocking 800 hp on tap, it's also fleetfooted, able to accelerate from 0-60 in just three seconds. Not bad for a full-size, seven-passenger sport ute. With a giant storage space where the engine would ordinarily go up front—call it a "frunk"—it can also handle all of your (physical) baggage. With 300 miles of range, first deliveries slated for early 2022, and a compelling entry price, we expect it to be a hit. Starting at $70,000 rivian.com
VOLVO C40 RECHARGE: The C40 is Volvo's second fully electric vehicle, but its first without a gasoline-powered counterpart. It is also something of a category-buster, combining features of a sedan, hatchback, sports coupe, and an SUV, with a unique shape that doesn't mimic anything else on the road. These are just the kinds of experimentation we like to see in electric vehicles. With all-wheel-drive, and a potent 404 hp, it can zip from a standstill to a mile-a-minute in 4.5 seconds. And Volvo's corporate focus on recycled and sustainable materials sets it apart. Though its 225- mile range is more limited than some other offerings, so is its starting price. Starting at $58,750 volvocars.com
CUSTOMIZED JOURNEYS
All Roads North
Founder Sam Highley lists Top 3 road trips for electric cars.
LUXURY CALIFORNIA COUPLES TRIP
On this 10-day luxury California road trip, sample gastronomic treats in Napa and Sonoma, explore Big Sur's lush coastal forests, and immerse yourself in Southern California's exciting art scene. Find respite at secluded getaways perched high above a cliff or surrounded by vineyards and fragrant gardens.
COLORADO LUXURY ROAD TRIP
On this 13-day, high-mountain luxury road trip, you'll mountain bike through the beauty of the Maroon Bells, soak in natural mountain hot springs, and embark on several scenic drives through the majestic Rocky Mountains.
NEW ENGLAND: COAST TO PEAKS
Travel along New England's most scenic backgrounds during this 10-day journey. You'll meet Maine lobstermen, Vermont organic farmers, and the movers and shakers in the Berkshires art scene, all while staying in style at some of the region's top hotels
For full itineraries—and charging stations—on the above All Roads North road trips, visit the Club Journal at exclusiveresorts.com/club-journal and allroadsnorth.com.