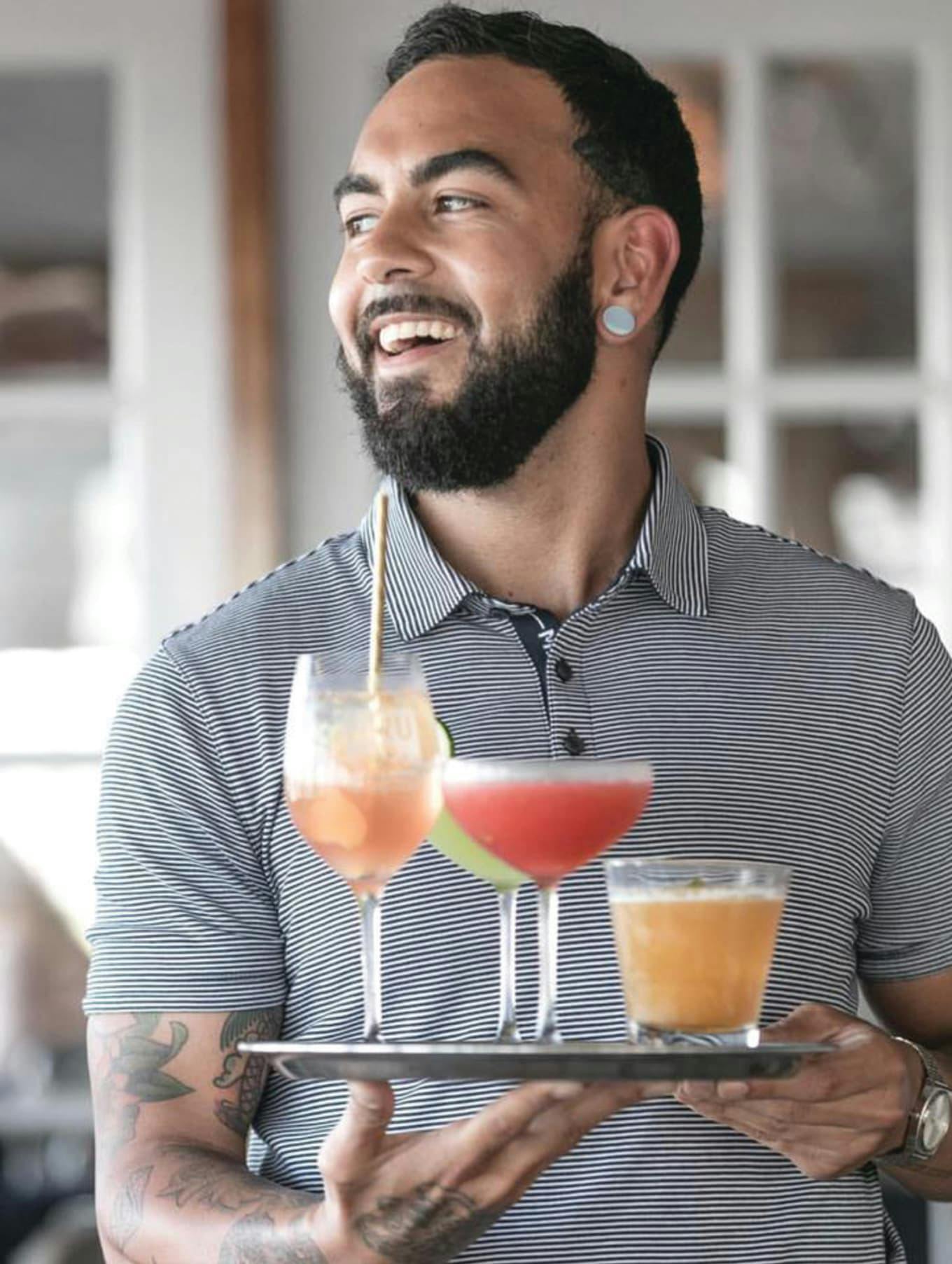 CHEERS, NANTUCKET!
A toast to the city's past and present cocktail scene.
The best thing about Nantucket's bar scene, according to Meg Nolan Van Reesema, is its ideal combination of upscale venues and downhome drinking dens. "Drinking has always been core to Nantucket social life — it's New England, after all," laughs the Tradewinds magazine editor and lifelong Nantucket summer resident, "There are bars around the strip that have been there forever and draw a saltier crowd, but now there are also see-and-be-seen places or historic old watering holes that have been redone." Here are her curated go-to's, where anyone can enjoy an on-island drink (or two).
CLUB CAR 1 | Main Street
New owners revamped one of the island's signature drinking dens, located at the base of Main Street. When they took the helm five years ago, they upgraded the interior. The result? It's airier, with a menu transformed from New England staples to modern American small plates. The vibe, though, remains homey as ever, with piano singalongs and a combo local-visitor crowd; the car itself used to run on the rail line between the village and 'Sconset, where drinks were served and provided inspiration for this festive joint. --theclubcar.com
THE ROSE & CROWN | 23 South Water Street
"The floor is sticky with beer, and you have to have done karaoke there at least once," says Nolan van Reesema of this dive bar, a one-time livery stable dating back to the 1800s (it was a gas station and art studio before morphing into a bar-restaurant). It sits right in the heart of old town, and is considered one of the better late-night spots (open until 1 a.m.) When last call happens in town, most head to mid-island and the Chicken Box, another beloved dive bar. --theroseandcrown.com
THE BAR AT GALLEY BEACH | 54 Jefferson Avenue
If you want an excuse to dress up for an on-island cocktail, there's nowhere better than this spot, which Nolan van Reesema calls "the most Hamptons-esque scene Nantucket has ever had." She credits it with importing the idea of the upscale sundowner here. In part, that's attributed to its beach-side locale, where the torch-lit lounge channels a club on the Mediterranean coast. It's also thanks to the efforts of longtime owners,
the Silva family; a dress code is enforced come late afternoon, so the vibe remains distinct from bikini-clad after-beach drinks. --galleybeach.net
CRU | 1 Straight Wharf
An oyster and wine bar, Cru is one of Nolan van Reesema's call outs, due to its impressive cellar list. "They go on crazy trips to get incredible bottles, and sell bananas numbers of great wines," she raves. The decade-old upscale bar-restaurant sits right at the end of the wharf, so boat traffic whizzes all around those sitting in its open-sided space, cooled by the breezy salty air. Slurp on fresh-shucked oysters prepped by the master opener, Rocco. --crunantucket.com
THE GAZEBO | 4 Harbor Square
You can tell the signature drink of this dockside bar by the noise of the blenders: frozen mudslides, that dangerous combo of dessert and drink that packs a sneaky punch. Sit here on a warm evening to gaze out over the busy harbor, and graze on lobster rolls and chowder. Last year, the bar raised eyebrows by hiking the age at which patrons could buy alcohol from 21 to 25, aiming to squeeze out frat boy-ish rowdiness and make families especially welcome. --nantuckettavern.com
STAY
Exclusive Resorts offers three quintessentially Nantucket residences centrally located in Town (and for the summer season only). Top restaurants and shops are easily accessible without a car as the 50-mile-wide island has an extensive bike trail system.
BEDROOMS: 5-6
BATHS: 5-6 ACCOMMODATES: 10-12