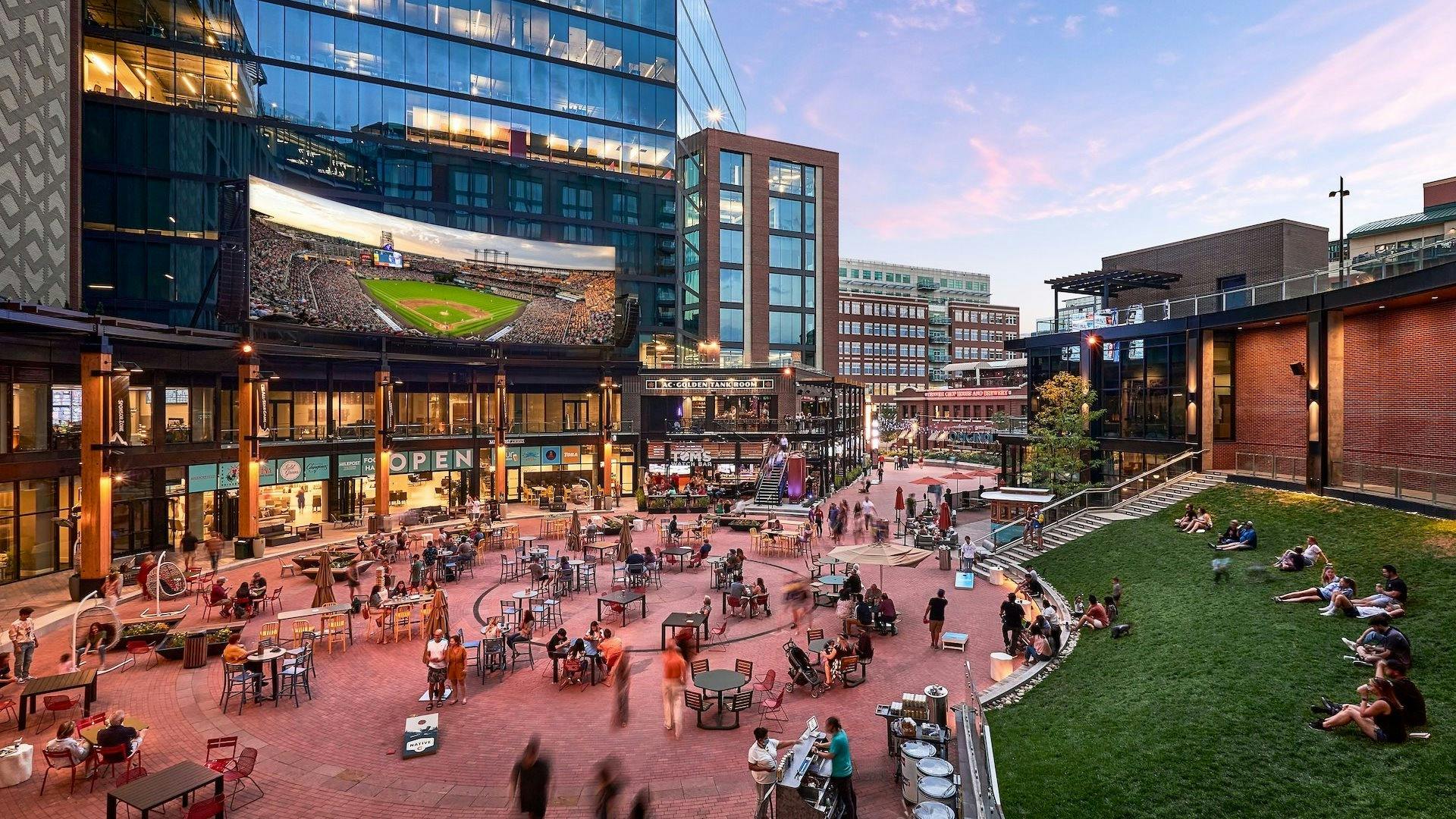 Downtown Playground
Exclusive Resorts officially has a new place to call home. Don't be shy — stop by!
In the heart of Lower Downtown Denver (LoDo), Exclusive Resorts has finished construction on our new-and-improved permanent office space in McGregor Square. This exciting urban refuge, spanning an entire city block, is the perfect hub for our business. McGregor Square's curated, modern office space and central location make it the place to do business in Denver. We are so excited to call this new location home and reside next to multiple prestigious businesses and company headquarters.
About McGregor Square
McGregor Square is a newly constructed development that consists of three separate structures and spans a full city block of lower downtown Denver. The development is directly adjacent to Coors Field and includes a residential tower, an office tower, and an upscale hotel. These buildings surround a 28,000 square foot outdoor plaza that will be used year-round for concerts, festivals, movie nights, and even an ice rink in the winter. Our new corporate office will occupy the majority of the 5th floor in the office tower. Our new address is: 1601 19th Street, Suite 500, Denver, CO 80202!
The Exclusive Resorts Space
We wanted a notable update from our last space, which was our home base for close to 15 years. The design team was very focused on creating a current, on-trend look and really leaned into an industrial look and feel. The design plan allowed many of the existing raw finishes to remain in order to provide a hip, open, and lofty feel. As you enter the nearly 19,000 square foot space, you see high ceilings, exposed ducts, and polished concrete flooring. There is no question that you are in the heart of lower downtown Denver. And of course, there are the 360-degree views of downtown, the most notable being the direct view of iconic Coors Field Stadium.
About the Workspaces
We will continue to foster a hybrid work model for our team members, so for the workspaces, we prioritized ease and functionality while curating the furnishings. Upon arrival, our teammates can plug in anywhere in the office and be immediately productive with minimal adjustment time. Comfort and functionality remained paramount in all furniture selections and each workspace provides dual display monitors, ergonomically advanced seating, adjustable sit-to-stand desks, and ample storage so that belongings can be easily tucked away for the day. We also opted for more group huddle spaces — including high top, multiple seat tables and cozy meeting rooms — since we expect those in-office days to be highly a collaborative time for the team. The space also boasts four conference rooms, two of which have floor to ceiling windows, custom handcrafted conference tables, and sleek conference chairs upholstered in gorgeous Poltrona Frau leather.
Please send any deliveries (FedEx, UPS, DHL, etc.) and regular mail to our new location at 1601 19th St. Suite 500, Denver, CO, 80202.
Photo Credit: Moss Photography