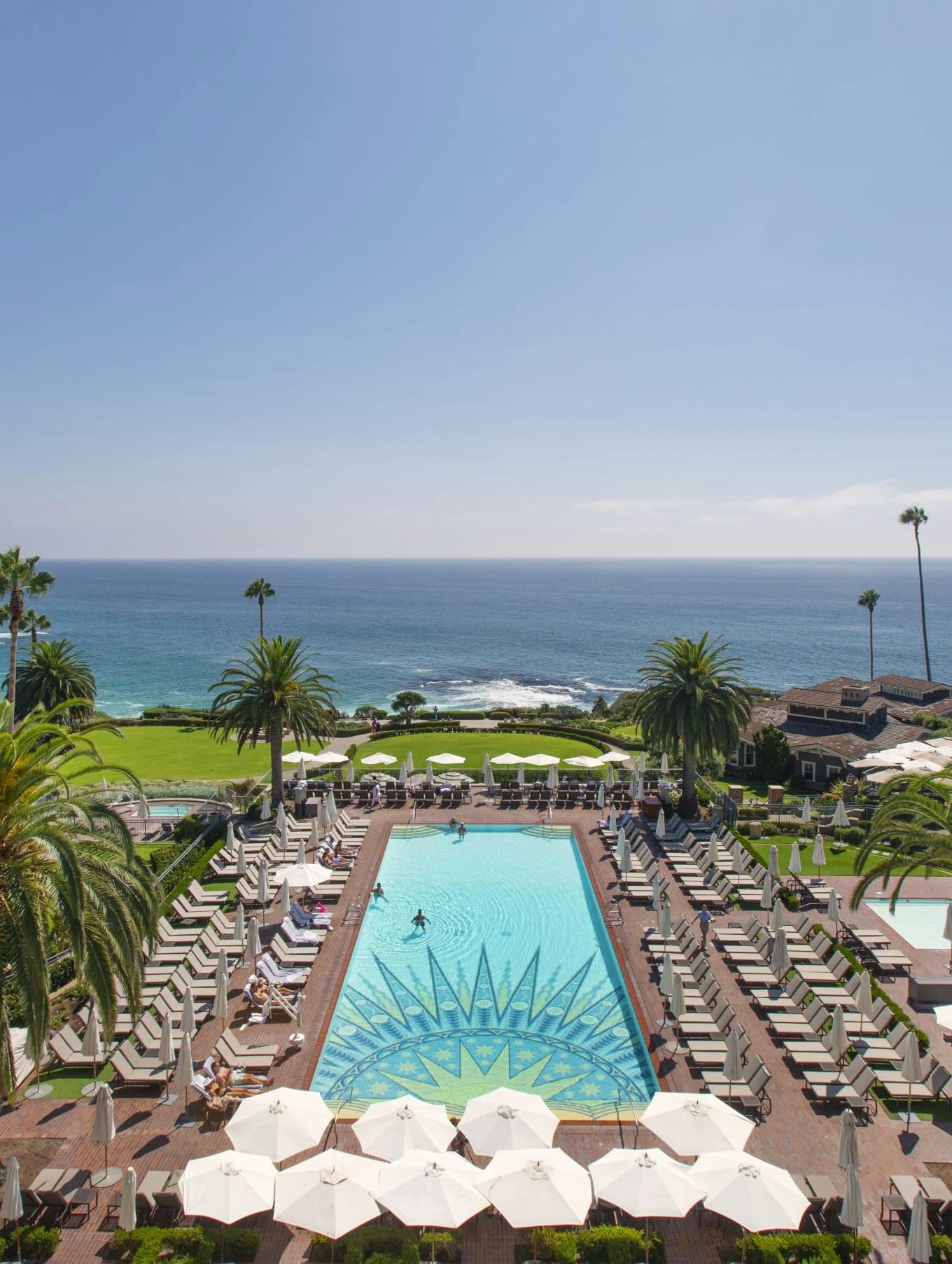 California Cool
Erin Lentz discovers there's never been a more romantic time to travel with your kids, especially when tucking away into the coastal coves of Newport and Laguna beaches.
Nine Miles at sea. Dana Point on the horizon. A noon October sun warms our goose-bumped legs. We're hunting for Top Gun. Not Tom Cruise inspired — though my 12-year-old son, Bode, is obsessed with fighter pilots — but a humpback whale. Captain Chuck and First Mate Jess pilot our Zodiac at top speed, instructing us to look for the tell-tale blow hole on the ocean's surface.
Bode flips his baseball hat backward, faces the wind, and scans the water. I smile, not just at this epic morning, but because this trip to Southern California has been nothing short of bliss. No school. No Inbox. No to-dos. We're on a weeklong "date." Given the global rollercoaster we've all been collectively riding, I'll soon realize romance at The Resort at Pelican Hill and Montage Laguna Beach isn't only roses, sunset toasts, and couples massages. Romance amidst a pandemic? Smiles, first-ever whale sightings, a sun-kissed boat ride. No screen time — love, actually.
Pelican Hill Resort & Balboa Island
We start our journey at Pelican Hill Resort. Upon check-in to our three-bedroom villa, Club Concierge Tammy Matsunami arranges for warm cookies and milk to be delivered to our room — Bode's version of a champagne toast to jumpstart our trip. His top priority? A dip in the largest circular pool in the world, a Pelican Hill calling card (along with its 36 holes of golf). As the sun casts cotton-candy streaks across the California coast, we toss a foam football back and forth in the massive pool — a parent's secret to tween convo. Topics of our "happy hour:" his middle school crush, his school's next football game, and, in typical boy fashion, what's for dinner. Considering he recently asked me if I thought he'd wear a face mask his whole life, this chat is romantic enough. And perhaps more important — as we dine at the resort's Coliseum Restaurant beneath a nearly full moon and large palms, the noisy hum of a restaurant in full throttle indicates a welcome return to some normalcy.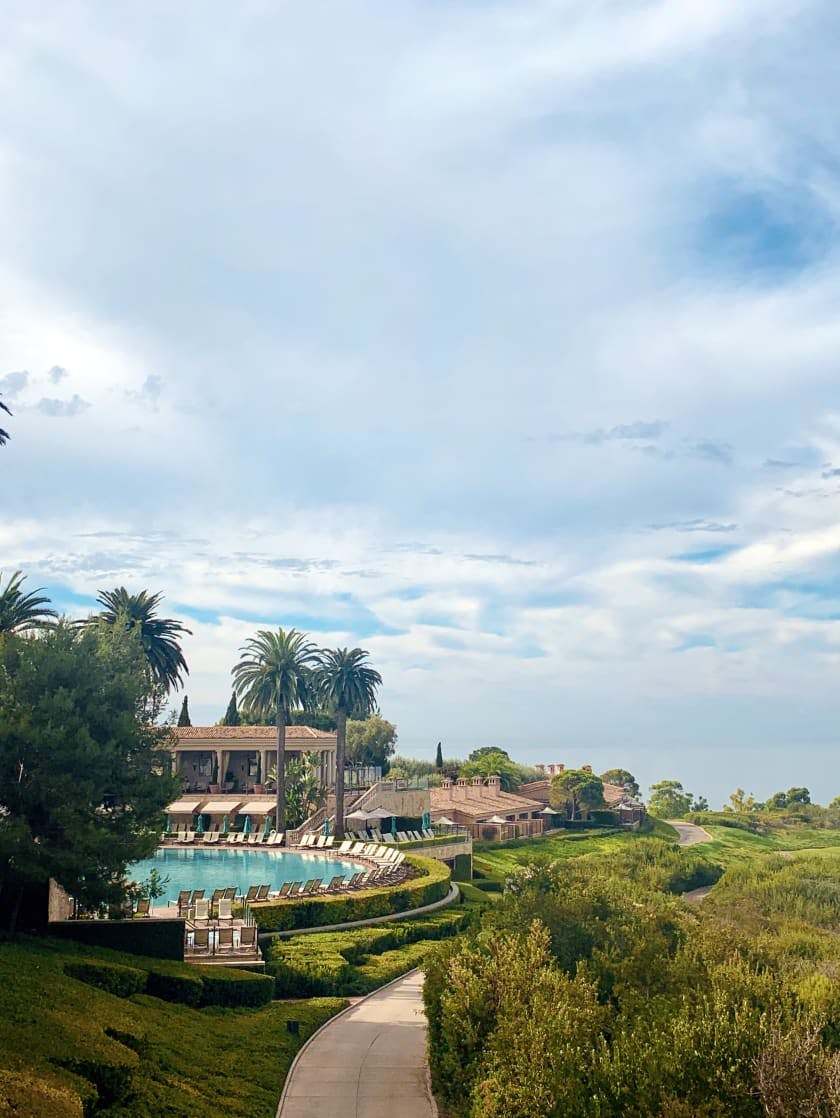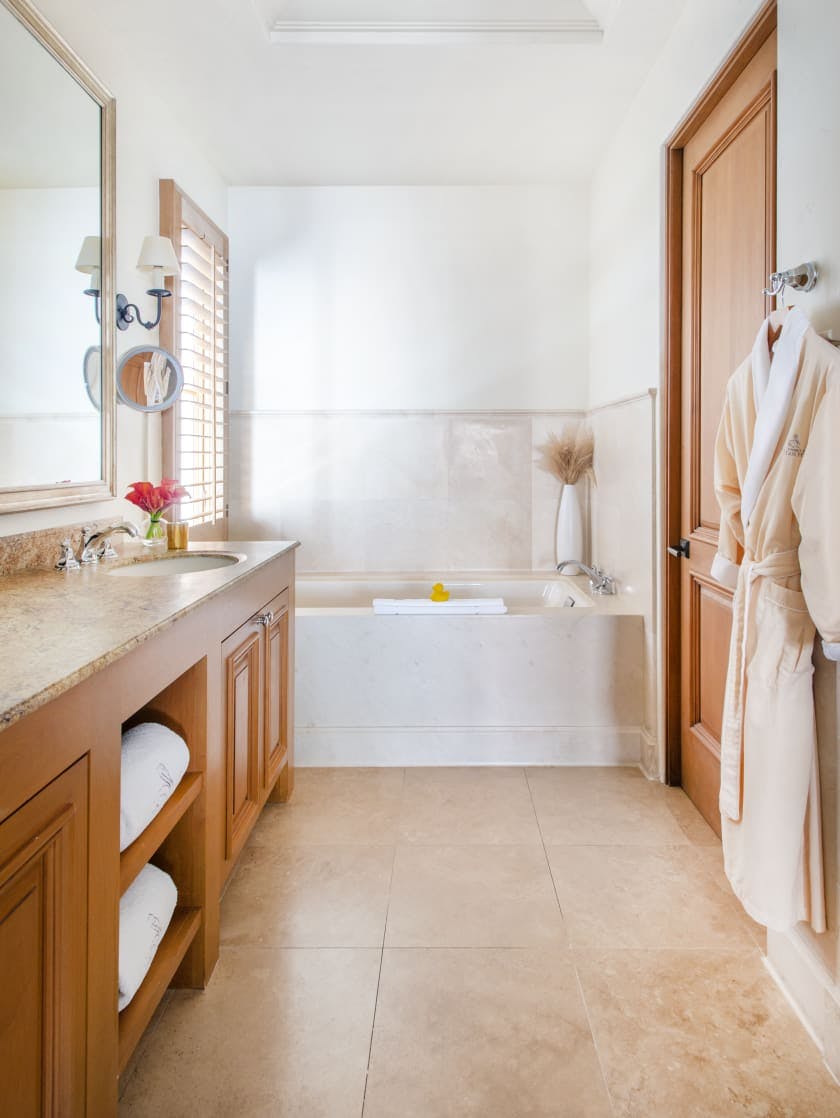 Thanks to Tammy's local intel, the following morning we're excited to bike nearby Balboa Island. As Coloradoans and avid mountain bikers, we at first shun the idea of renting E-bikes, thinking we need to earn our pedal strokes. Bode, however, is intrigued at the sight of Sports Rents' tricked out E-Bikes. "Let's cross to the dark side, Mom," he jokes. Two minutes into our ride toward the ferry, his giggle as our bikes reach nearly 20 mph says it all. No wonder E-bikes are having such a moment, as they are non-stop fun. Once on Balboa Island, Bode takes a video of a roller skater cruising the boardwalk — the stereotypical SoCal scene jumped to life — and we bike nearly 25 miles around the scenic island, checking out the kid's Fun Zone before landing at Bear Flag Fish Co. for a Sunday brunch of fish tacos and calamari fries. Couples sip mimosas as the Red Hot Chili Peppers' "Californication" — one of Bode's favorite songs — streams from Sonos speakers. The afternoon feels orchestrated specifically for us — one of those vacation days where the real world remains in the rearview.
Trail Hunting > Crystal Cove State Park  
Any exploration of SoCal calls for ample time on the Pacific Coast Highway, and this stretch of scenic road becomes integral to our weeklong escape. One of our favorite stops along the famous coastal drive? Crystal Cove State Park. We decide on a moderate, three-mile hike, and as we tic-tac-toe across short climbs, steep descents, and finally to the floor of Moro Canyon, gone are the tense verbal volleys over iPhone time or homework. Instead, we talk about mountain lion habitats, the area's restoration project, and signs warning us of rattlesnake territory. We pretend we're in an Indiana Jones film hunting for water, and then decide to run together toward the hike's end, for exercise. As we near the trailhead, Bode grabs my hand in mock relay victory, raising our fists to the air. "And the crowd goes wild," he jokes. Today, nature has been our romantic vacation muse.
Montage Laguna Beach & Aqua Adventure
Next up? A stay at Montage Laguna Beach — a storied property that kisses the lip of the Pacific and is a honeymooner hotspot. And though Mom does sneak in a spa visit (can you blame me?), our Montage mission, like the many young families we notice lazing around the iconic Mosaic Pool is simple: Be together. After checking into our sprawling, three-bedroom Club residence (replete with three terraces that open to the Cali coast and a S'mores kit to take to the resort's beachside outdoor firepit), we stroll along the beach. As a now full moon dances along the ocean's surface, I tell Bode I hope these next few days feel like some of our longest.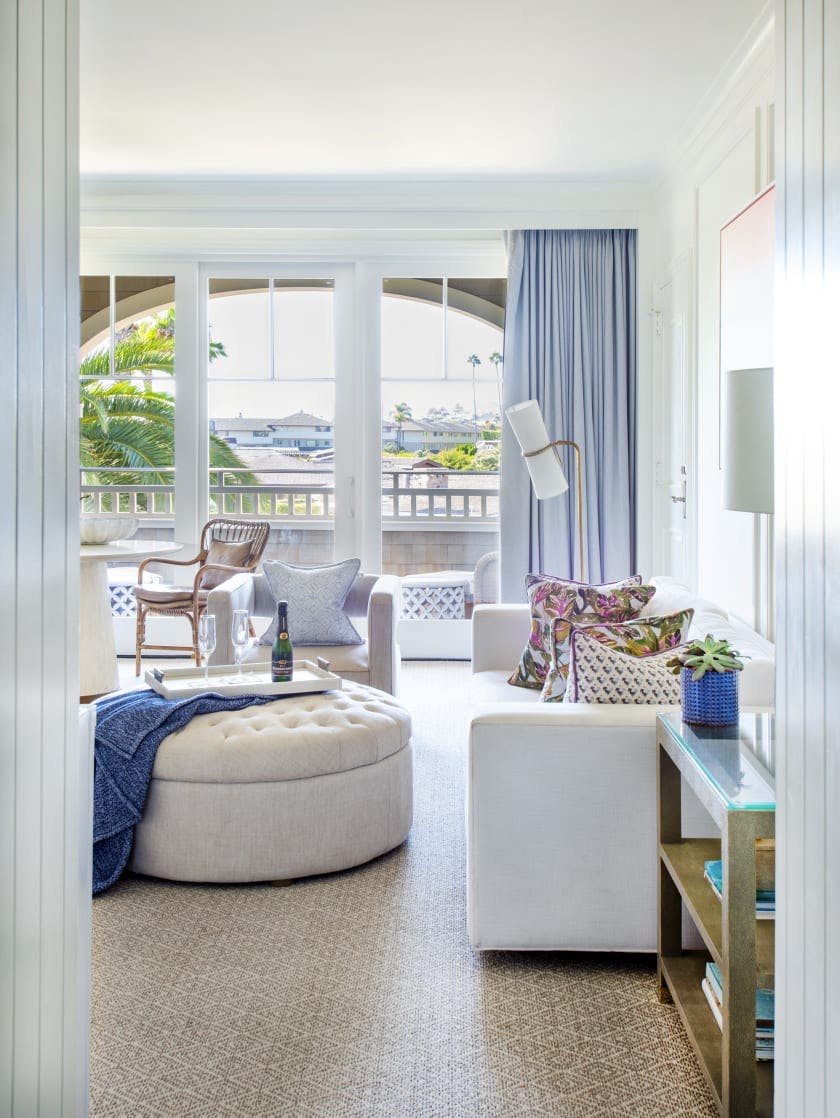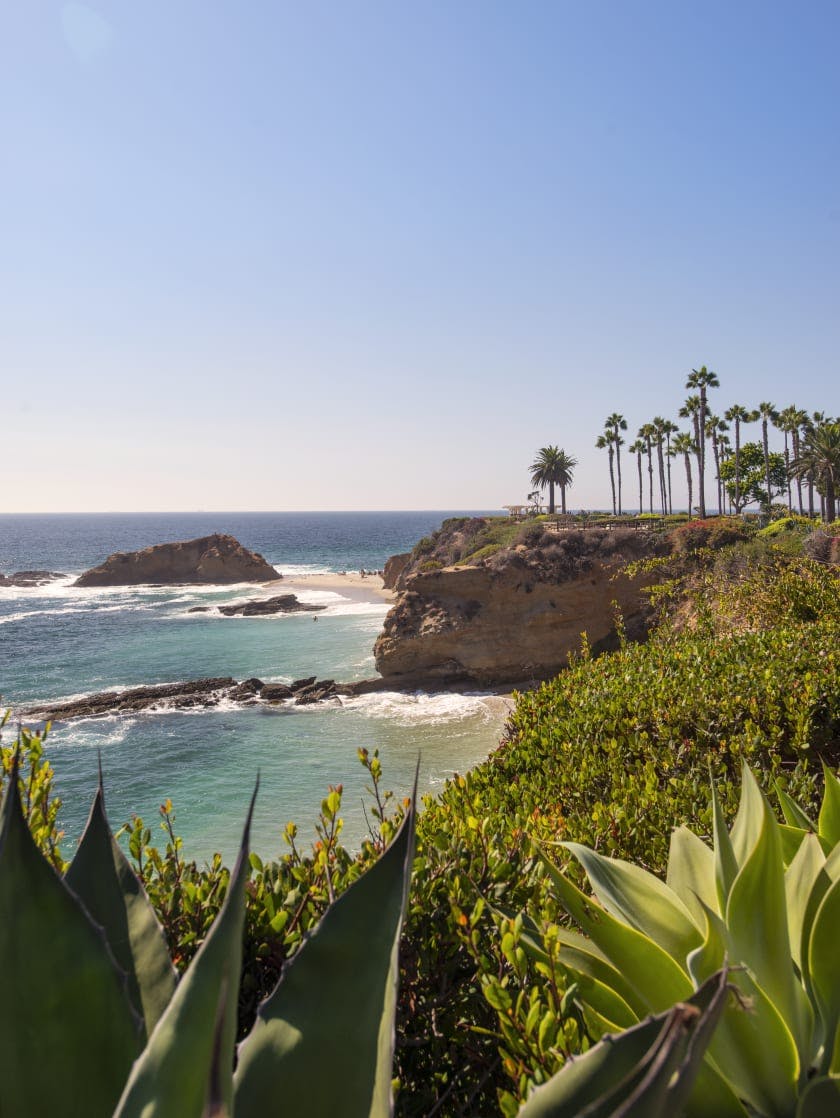 Family fun at the Montage includes Adventure — a resort program of outdoor experiences with professional athletes and local experts. Kids can surf and skim board with Blair Conklin, learn how to fly above the water on electric hydrofoils with pro Chuck Glynn, or take a family hike with Lululemon ambassador and Soul Cycle fitness instructor Remi Sullivan. If traveling with little ones (ages 5 to 12), the Paintbox program is a must, too, featuring thematically planned days of arts and crafts, plus games and creative activities both indoors and poolside. Other Montage standouts include the aforementioned Spa Montage (try the California Wildflower Ritual, which fuses massage with healing flower poultices and aromatic essences), and American coastal cuisine at the Loft restaurant.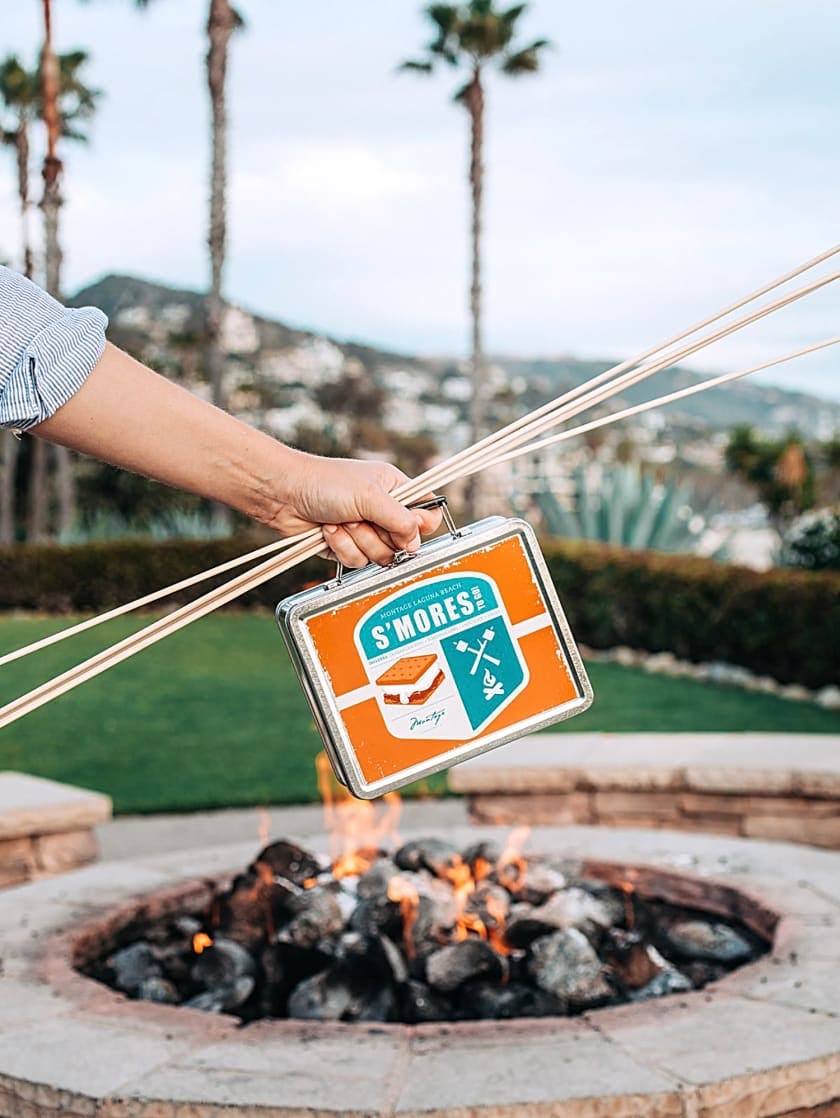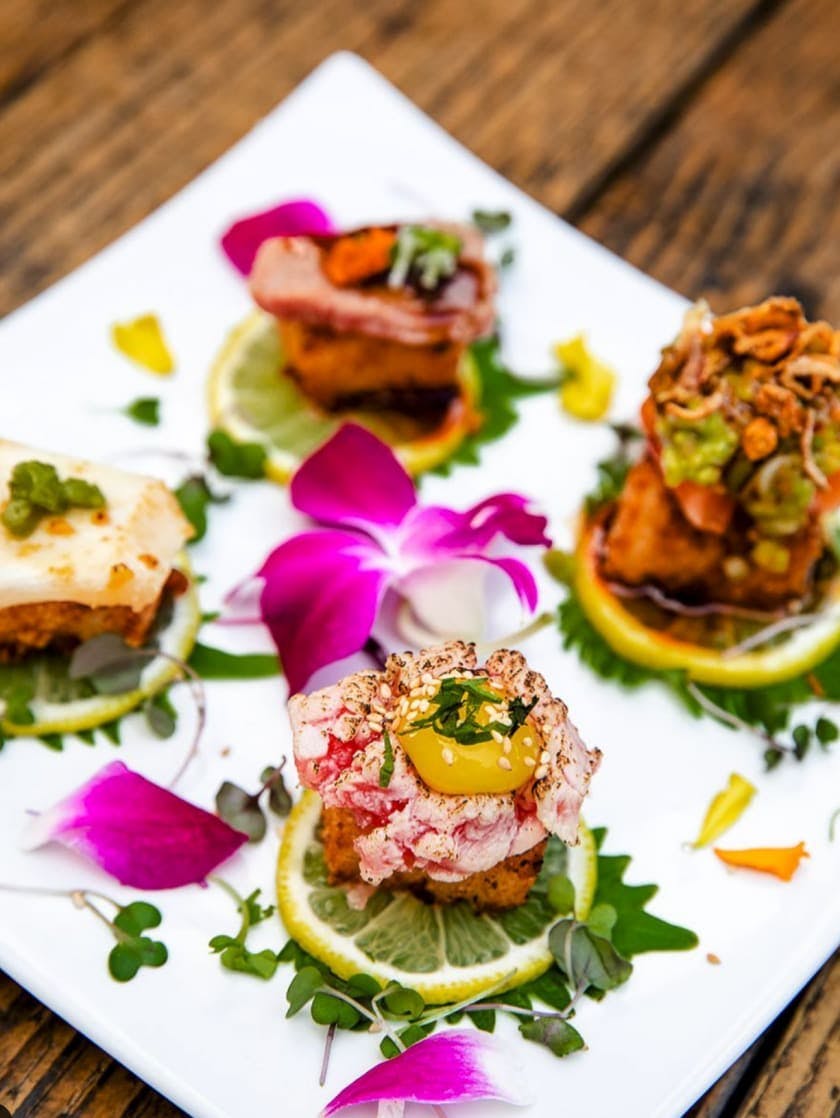 But, back to our hunt for Top Gun: Bode, along with two other kids on the boat, eventually spy its blowhole — a loud sound about 50 feet from the boat's bow. The captain maneuvers the boat for prime viewing, and suddenly we're close enough to watch the whale breach the surface and then hear it's massive tail thwack the ocean as it dips beneath the swell in search of more food. Bode turns back toward me, grins, and says, "Found him." I squeeze his hand, and then we're off to find a pod of dolphins. 
Sea Me!
Top tables for your Cali foodie file.
Selanne Steak Tavern Housed in a historic 1934 home on the Pacific Coast, this landmark restaurant continually draws a well-heeled crowd, known for the finest steaks and seafood in Laguna, with a top wine list, too.
Beachcomber Café Located at Crystal Cove State Park, this casual seaside outpost is a must for first-time visitors to the area. Order the famous tuna tacos and pair it with a spicy jalapeño margarita.
The Loft at Montage Laguna Beach Perched on the fourth floor of the Montage Laguna Beach, The Loft is a favorite for sunset cocktails and tasty American classic cuisine. Plus, the bartenders (most likely former surf pros) mix up decadent espresso martinis.
Buddha's Favorite Sushi A casual Newport Beach outpost with waterfront patio dining, the sushi here is about as fresh as you can get. Make sure to order Yoshi's Favorite and the Backflip roll as you watch a Cali sunset.