Aprés All Day
Snow Beach ASPENX Gray Malin makes its official debut.
The old adage, "why bring sand to the beach?" is being playfully redefined. How about snow to a "beach," atop famous Ajax Mountain. Add artist Gray Malin's whimsical vision, a live DJ, fine vintages, plus gourmet food, and you have all the makings of alpine bliss and a luxury getaway. ASPENX, the new premium retail and experiential company conceptualized by Aspen Skiing Company and Aspen-based artist and entrepreneur Paula Crown, has partnered with renowned fine art photographer Gray Malin. With Malin's ideation, Snow Beach debuted President's Weekend to much fanfare (and Insta feeds), offering an exclusive ski resort experience. Considered a one-of-a-kind "club" atop Aspen Mountain, this eclectic winter pop-up is available for a limited six-weekend run through March 27th. 
It photographer Gray Malin has fast become an international brand. The 35-year-old artist—who 15 years ago was peddling prints in L.A.—is now globally acclaimed for his unique vision. His brilliant collections celebrate whimsical play in famous destinations, often with wondrous wallops of color. A helicopter on a Gray Malin shoot is most likely mandatory, with the artist often harnessed to the chopper, flying at daunting speeds in order to nail the shot. We recently caught up with Malin, who also just completed the playful Dogs of Aspen series (think adorable, ski lift-riding pooches), and is obsessed with all things travel and exclusive destinations.   
HOW DID THE CONCEPT FOR SNOW BEACH ASPENX GRAY MALIN COME ABOUT?
I thought of the idea in October 2020 when I was in Aspen. I met with The Little Nell, who I had previously worked with, and pitched them the idea. They really loved the concept, but we needed to figure out how we could logistically execute it. To find inspiration, I went to Miami in 2021 and studied the classic beach clubs along the South Beach Coastline. I examined how they were put together and taken apart, asked questions about the ins and outs of the clubs, and began to sketch out how Snow Beach could work. I started planning the layout, furnishings, and details of how my art and vision would come to life through Snow Beach.  
This immersive experience, which combines my work in Aspen, my aerial beach and ski photography, as well as my vintage styled series, is meant to provide people with a world of Gray Malin through a chic après-ski beach club setting. This includes a live DJ, games, a lifeguard tower, surfboards, and Gray Malin pillows and trays adorned with my photography to make it a real experience.  
WHAT ARE YOU MOST LOOKING FORWARD TO WITH SNOW BEACH AND HOW WILL THE CAPTURED IMAGES BE CELEBRATED?
It is truly a one-of-a-kind activation that combines my design and artwork with the five-star execution and service of the ASPENX team. I want guests of Snow Beach to feel inspired by the whimsical Gray Malin wonderland that Snow Beach provides and for them to take their own pictures to create long lasting memories. Guests will be able to engage with my artwork and my brand in an exciting and fun new way.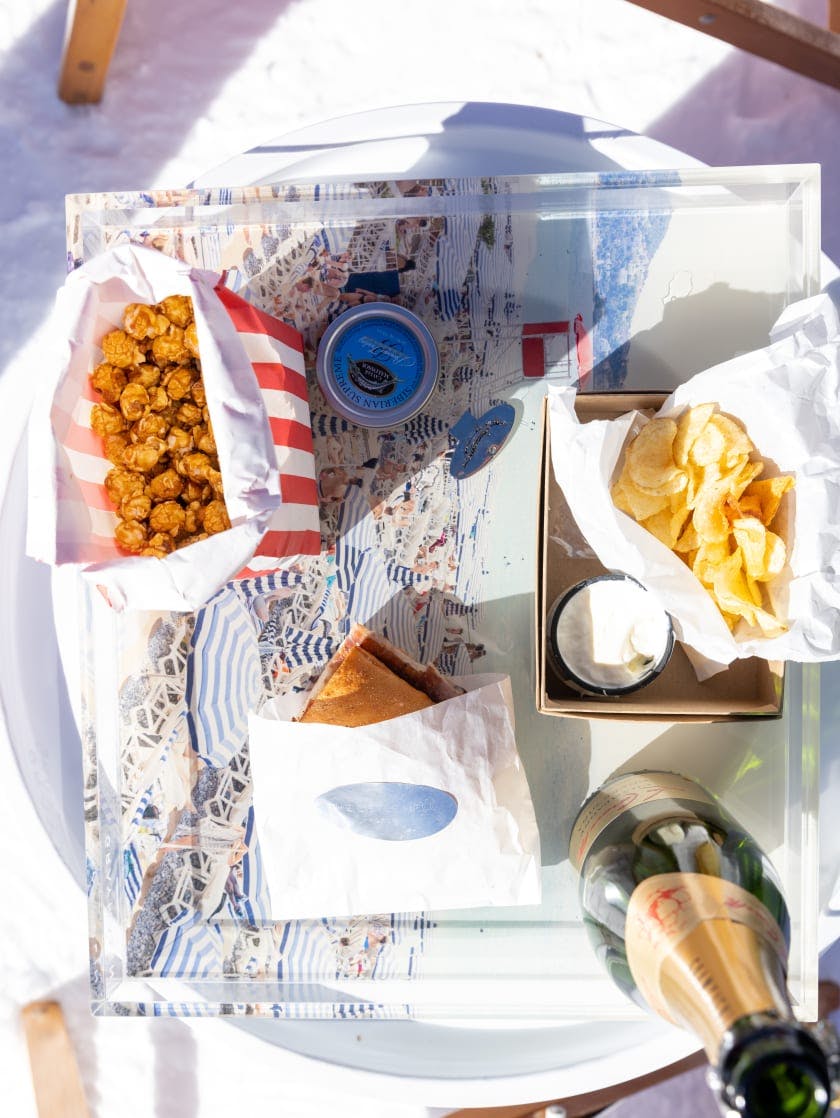 WHAT DO YOU MOST CHERISH ABOUT ASPEN?
The natural beauty of Aspen is such a sight to witness, so first and foremost I would have to say that this is what draws me to Aspen the most. I love that during ski season—when Aspen is a mecca of dreamy winterscapes—the town is flooded with electric energy and camaraderie amongst the community. The lively spirit and shared passion for the slopes and for Aspen in general creates the most fun apres-ski memories that keep me coming back time and time again. It is a treat to visit Aspen every time.  
YOUR WORK IS OFTEN ANCHORED IN WHIMSY AND TRAVEL. WHAT DO YOU MOST LOVE ABOUT TRAVEL?
I love that every destination has its own story to tell and that we can learn so much about the world by traveling. It really enriches your life experience. I always aim to inspire people to travel and seek out adventures with my photography given how much I value traveling. Whether that means that someone connects to a photograph of a place that holds special memories or perhaps, it's where they'd like to take their next trip. 
HARDEST GRAY MALIN SHOT TO DATE?
The shoot for my series Gray Malin in Antarctica was the most challenging.  This was due to the weather conditions, the difficulty of keeping the props in place, and the whole journey that it takes to get there. However, it really was an incredible experience shooting there and not many people get to witness the sheer beauty of this continent.  
FOR THE DOGS OF ASPEN SERIES, WHAT WAS THE BIGGEST CHALLENGE IN POSING POOCHES?
The biggest thing that you have to overcome when working with animals is that no matter how much you plan, things are not always going to go perfectly. You have to be patient with the dogs and you must be willing to be flexible.  Sometimes this means abandoning an idea, shifting the schedule around, and having to come up with ideas on the fly. But no matter what, we always make it work. It is extremely important to be respectful of these animals and pivot when they are giving you a warning that something isn't working.  
WHERE TO STAY
In Aspen, stay at the Junior or Executive Suites at the Hotel Jerome, housed in one of Aspen's landmark properties. You'll enjoy newly-renovated interiors, including first-rate dining and an atrium lobby featuring historic artifacts. "The Jerome" as locals call it, was born in 1889 at the height of town's silver boom, and is the only Aspen hotel to survive the silver crash. It's storied past includes Hunter S. Thompson holding court at the famous JBar during his run for sheriff. Receive preferred rates with your Exclusive Resorts Membership.
If staying in Snowmass, Exclusive Resorts' homes at Timbers Resorts' namesake property are ski-in/ski-out, private mountain residences just steps from Snowmass Resorts' Assay Hill lift. Members enjoy the finest services and amenities, including elegantly furnished lounges, a fitness area, massage treatments, pool, hot tubs, and more.