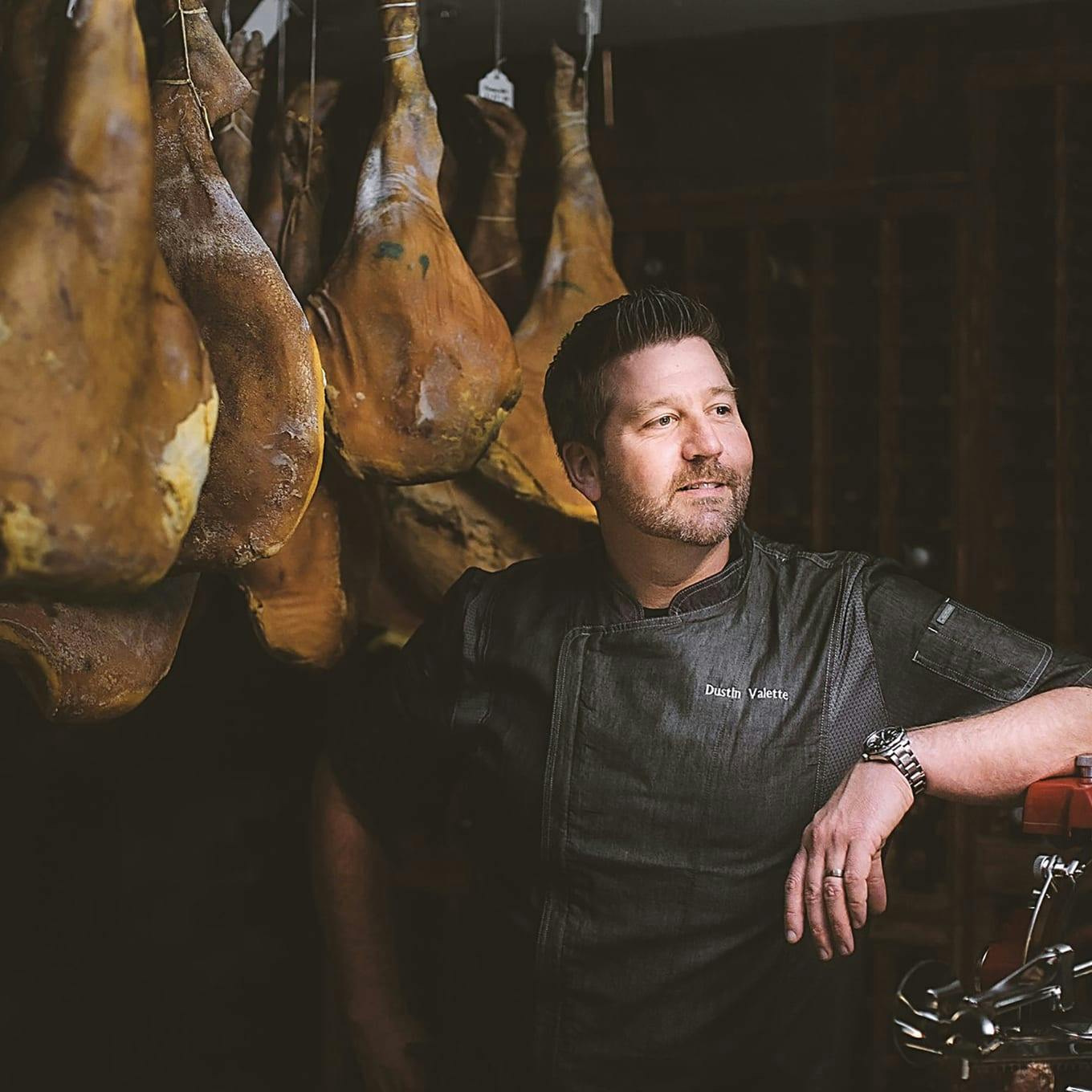 Fare Ground
Chef Dustin Valette's newest restaurant, The Matheson, spotlights agrarian Healdsburg. Here is his black book of California inspired ingredients.
Dustin Valette, Heldsburg's quick-witted super-chef and vintner has a new eatery in wine country: a tri-level paean to the region's growers and ranchers featuring a fine dining option, sushi bar, and rooftop lounge. The piece de resistance? A computerized self-service wine wall with 88 wines on tap, many from super-small vineyards.
Valette envisioned the space as a hub for locals and visitors to enjoy the bounty of Sonoma County. It's stylish, whimsical, and fuss-free. The restaurant is also about storytelling. From the custom-built Mugnaini wood-fired pizza oven wrapped with thousands of black and copper pennies (a reminder of saving his pennies to afford the high-end appliance) to the beehive vibe of the third-floor lounge (Valette's great-uncle was a beekeeper and the chef was obsessed with bees as a child, hence the honey comb-tiled bar and hive box-esque redwood walls), the dining experience feels personal. Lending to the warm vibe is the building's history. The Matheson inhabits a 100-year-old edifice that once housed Valette's great grandfather's bakery which, not surprisingly, was a communal hub during the 1930s and '40s. 
Cali-cool ingredients such as locally foraged kombu, stinging nettles, eclectic garlic varietals, and star thistle honey sourced from a third-generation beekeeper shine in such dishes as the Tamanishiko Rice Porridge with scallops, preserved lemon, shishito spice, and chrysanthemum. On the rooftop, wood-fired pizzas are crafted with wheat flour from an organic farm and vineyard run by celebrated local Lou Preston. The entire menu, in fact, calls upon the fruits of local artisans.
Want to tap into Valette's purveyors? Here are some of his hit dishes, along with local ingredients and where you can source them. 
BURRATA AND GRILLED PEACH "SALAD" with blistered shishitos, peach-balsamic gastrique. Ingredients: Pickled green peaches and peach leaf for flavoring desserts. Sourced: Dry Creek Peach by farmer Gayle Sullivan. Products can be found at the Healdsburg Farmer's market or online at Frog Hollow.
COFFEE AND SPICE GRILLED AKUASHI BAVETTE STEAK with leek salsa verde, watercress, pickled turnip and chilled Monterey squid Thai chili, Espelette, smoked peanut, melon, mint blossoms. Ingredient: Espelette pepper grown by Jack Herron of Hidden Pond Farm. Sourced: Healdsburg Farmer's market or purchased online from artisan farm producer: "Piment d'Ville," grown in nearby Boonville.
CRISPY PORK BELLY toasted Espelette chili oil, purslane, garlic chips. Ingredient: Unusual garlic varietals from Yael & Zureal Bernier of Bernier Farms. Sourced: Healdsburg Farmer's market. Seeds can be purchased directly Bernier Farms.
SESAME CRUSTED LOCAL AHI TATAKI with barrel-aged soy kombu emulsion, puffed rice, sesame snow Ingredient: Locally foraged Kombu seaweed from Sonoma's Strong Arm Farm. Sourced: Sesame oil from La Tourangelle and olive. DaVero Farms and Winery sells unfiltered, cold-pressed peppery estate olive oil to slather on pasta, roasted vegetables, and salads.
+WINE PAIRING: APERTURE CELLARS CHENIN BLANC This lively white from an old vine site planted in the 1940s is sold by the glass at The Matheson. Expect notes of passion fruit, nectarines, and honeysuckle—perfect to pair with seafood, especially sushi. -- thematheson.com