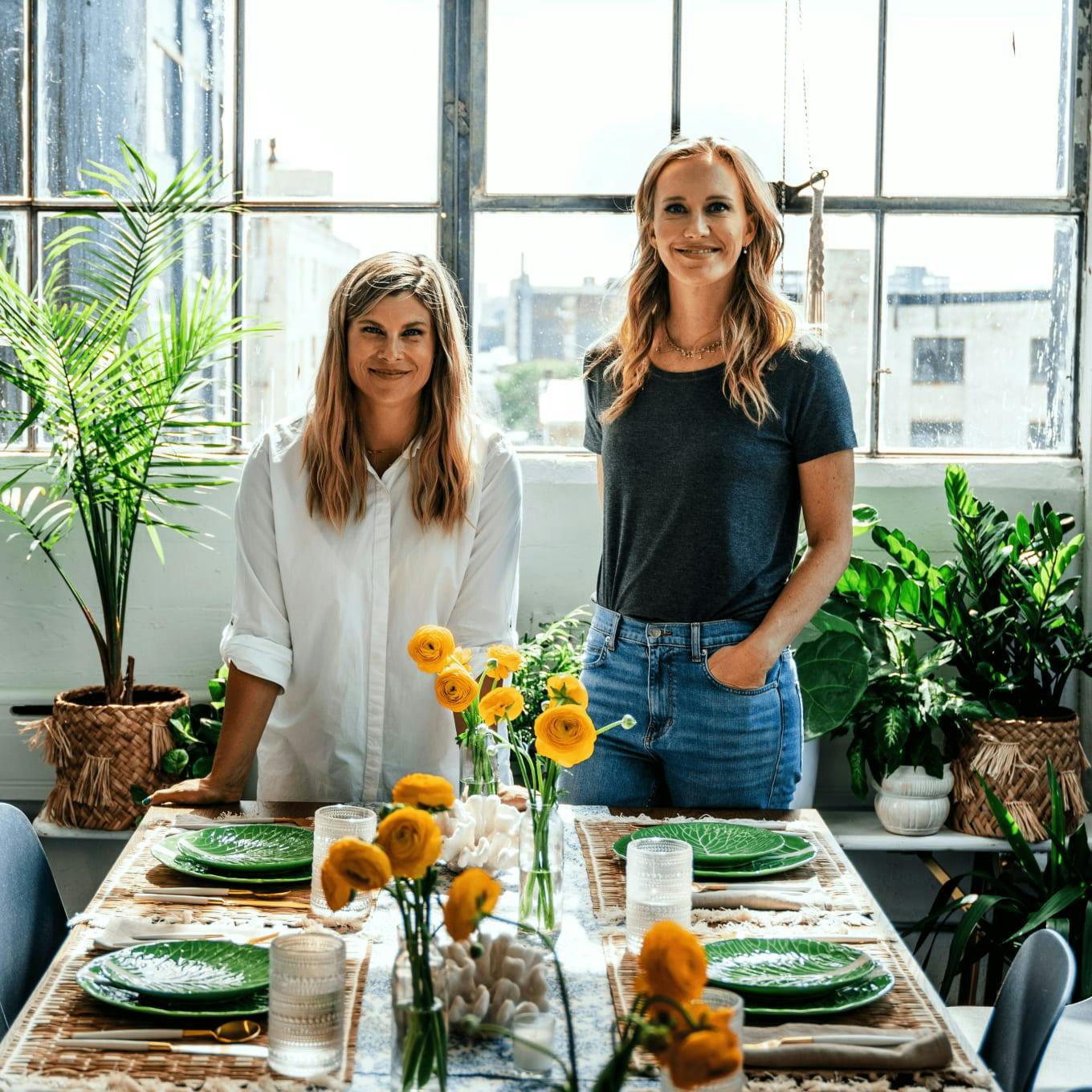 On Trend
Social Studies simplifies the art of festive tablescapes.
Ask any great host or hostess, and they'll tell you the secret to a great party isn't the food or the cocktails, it's the scene. The flowers, playlist, glassware, and your tabletop's color scheme all set the tone for a festive party. Once the realm of event planners, the art of entertaining is something anyone can master now, thanks to Social Studies. Akin to Rent the Runway for party hosting, this two-year-old company rents entire tablescapes—think plates, glassware, flatware, votives, napkins, bowls, and runners—so you can always set a table to match the moment.
Jessica Latham, co-founder and CEO, oversaw special events for Vanity Fair for more than a decade. She and childhood friend, co-founder Amy Griffin, were frustrated by the lack of high-quality, affordable, convenient rentals for entertaining. Their solution: a one-stop-shop for parties delivered to your door, in a box. Customers go online, choose from 40 different thematic tableware designs—like Hygge Holiday or Provence—and choose such add-ons as menus, name cards, balloons, bocce ball kits, and fresh flowers. In less than a week you'll receive a box with everything needed for a party. When the party's over, the box gets repacked (the host keeps the florals) and returned. Whether you're hosting a birthday dinner for four or a wedding for 100, the company takes care of everything but food and alcohol.
The brand's almost overnight popularity got a boost from its influential investors, including Gwyneth Paltrow, Reese Witherspoon, and Bumble CEO Whitney Herd. A recent retail collaboration with Paltrow's company Goop sold out within one day on Goop's website.
Social Studies has collaborated on collections with Aerin Lauder (Super Tuscan) and LaDouble J (The Doppio)—both best sellers. The company is also getting creative with its content dubbed The Social. The brand's online editorial platform aims to be a catch-all for party-throwing inspiration, publishing columns offering fashion advice, wine intel, and recipes from tastemakers like sommelier DLynn Proctor, director of Fantesca Estate & Winery, and cookbook author Colu Henry.
Social Studies ships throughout most of the U.S., which means if you're family is spending the holidays at a vacation home, you can still throw a festive celebration. Plus, the company partnered with luggage brand Away to develop highly durable boxes to ensure plates and glasses don't break in transit. If you love the look of certain lines, like Essentials, an everyday collection in muted tones that starts at $22 per place setting, and you can purchase them to keep. Filters make it super simple to find just the right look—search by color, price, style, materials (bamboo, resin, or melamine) and themes like kid- or outdoor-friendly. Social Studies recently introduced picnic and tailgate kits featuring referee koozies, mini footballs, and team color napkins. At a time when we're all entertaining more at home, Social Studies takes the hassle out of hosting, so everyone can enjoy the party
As a preferred partner, Club Members enjoy 20 percent off Social Studies orders. Select your favorite holiday look and ship your kit directly to your home or your U.S. Club residence. --social-studies.com