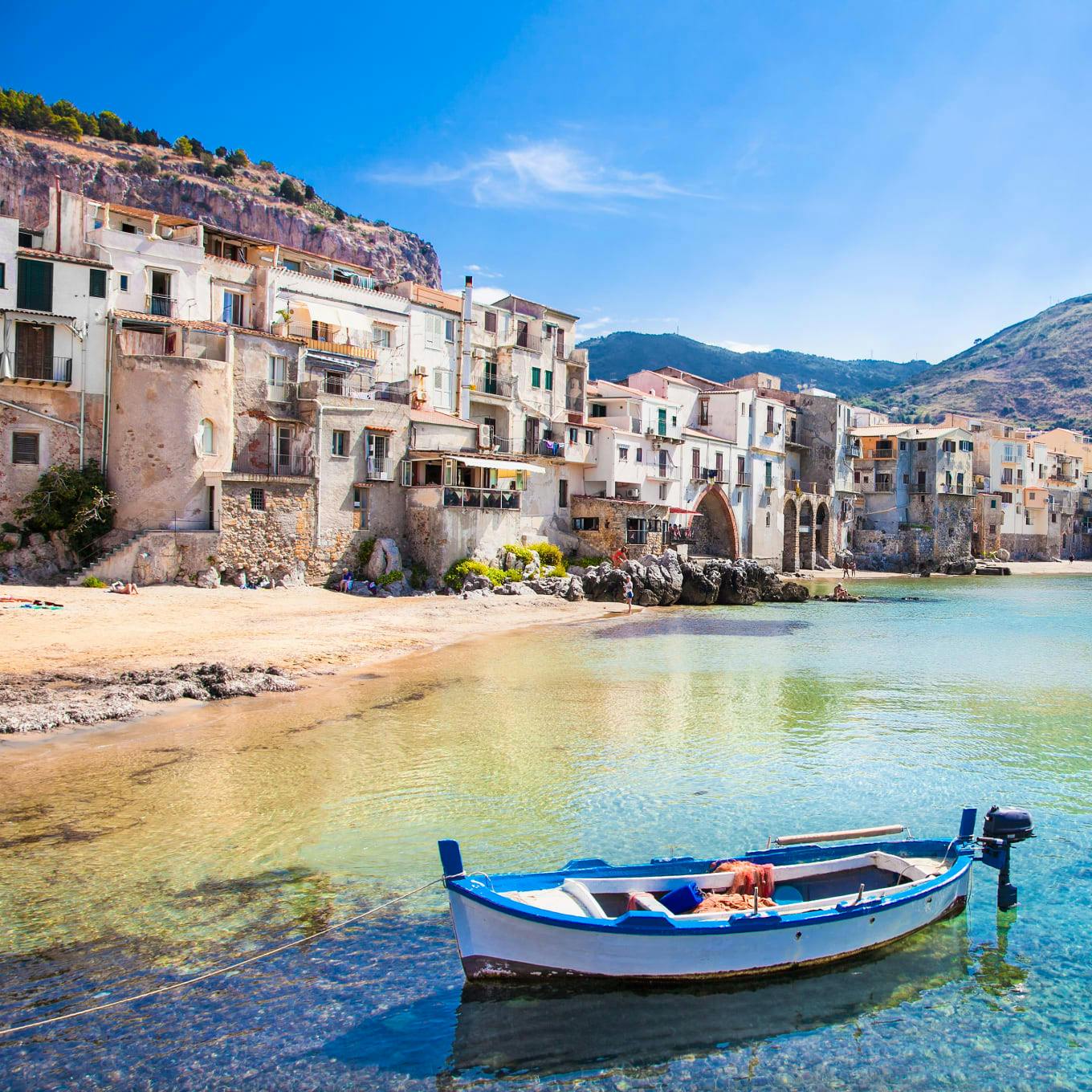 Europe 2022 Collection
Our impressive Villa Collection features sophisticated stays for the ultimate luxury European getaway.
Now that the EU has officially opened its borders, re-discovering our favorite countries is a reality. And though mandates and travel experiences vary (Exclusive Resorts' Ambassadors and Covid Navigator have all the intel), European destinations are still defined by what has always been most cherished: tucked-away cobblestone streets, historic monuments, trailblazing art, and culinary scenes. As such, the 2022 European Villa Collection has been carefully vetted and curated.
Gina Bach, Exclusive Resorts' Vice President, Experience Collection, says, "We love being able to offer Members additional inventory in Europe for the prime season of 2022, especially since we have options including two-to three-bedroom apartments in the city centers that are walkable to shops, sites, and restaurants. In addition, the collection has numerous three- to six-bedroom villas — all with sweeping sea views. I'm most excited about our new villas in Sicily, which have full resort amenities. And to top it off, Sicily stays include an in-residence cooking class using farm-fresh ingredients to craft local dishes."
Here's what you need to know before you embark on your own luxury European vacation.
NEW! SICILY, ITALY
Why Go Now: As Italy's largest island, Sicily entices travelers with a heady blend of art, history, and cuisine — all accessed along the most scenic stretch of the Mediterranean coast. What's more, many of Italy's top attractions, including Sicily, are still way less crowded, which means you'll explore with unprecedented time and space.
Must Experience: Sicily's coastline is peppered with picturesque fishing villages and local markets. The island's capital, Palermo, is day-trip worthy, while the southwest coast features Verdura Resort and views of idyllic coves and beaches. Active travelers must visit Mt. Etna, an active volcano which dominates the Sicilian landscape. Lastly, Agrigento's Valley of Temples is a UNESCO-listed archaeological park consisting of seven temples built between 400 and 500 BC. 
Where You'll Stay: Located on the southwest coast of Sicily (80 minutes from Palermo PMO and Trapani TPS International Airports), three- and four-bedroom villas frame uninterrupted views of the aforementioned Verdura Resort and the Mediterranean Sea. The luxury resort features eight restaurants/bars, two 18-hole golf courses, a tennis club with six clay courts, spa, a football pitch, and four boutiques.
At a Glance: Verdura Resort
Bedrooms: 3-4 | Baths: 4-5 | Accommodates: 7-9
AMALFI COAST, ITALY
Why Go Now: There's reason the dreamy Amalfi Coast has inspired countless Hollywood films and best-selling novels. With vibrant towns hugging seaside cliffs, you'll feel as if you're standing straight above the ocean below. And considering Amalfi's sea-to-table cuisine, this is a wish-list European destination for foodies.
Must Experience: Via a private driver, cruise Southern Italy's most famous coastline, which runs from Sorrento to Salerno and passes the hilltop towns of Positano, Amalfi and Ravello. Stop at the well-known Grotta dello Smeraldo, a swimming spot accessible by boat and located between Positano and Amalfi. If a history buff, explore Pompeii and Herculaneum — famous archaeological areas buried under the 79 AD eruption of Vesuvius.
Where You'll Stay: Villa Bella features every detail for the perfect Amalfi Coast luxury European vacation, including a central location in Positano. Decorated in sea-inspired colors and custom tiles throughout, your villa feels one with the place — especially with sea views from each room. Villa Bella's top draw is its infinity-edge outdoor pool — a rarity for Positano — with spectacular ocean views. The large outdoor terrace also features a dining table and gardens.
At a Glance: Villa Bella
Bedrooms: 5 | Baths: 5.5 | Accommodates: 10
DUBROVNIK, CROATIA
Why Go Now: The 2022 European Collection is hand-curated to include the most sought-after destinations, and if there's one country that's having a moment, it's Croatia. Well-known as the filming location for the hit TV show Game of Thrones, the city of Dubrovnik's unique beauty is defined by pebbled beaches, limestone streets, and baroque architecture within ancient fortress walls.
Must Experience: Walk the Walls of Dubrovnik right when it opens in the morning, for sweeping city views. Spend a day at Sveti Jakov beach, located right outside the old city gates. Afterward, lunch at Konoba Sveti Jakov includes grilled shrimp, black risotto, and fish "fries." Boutique hopping? Don't miss Life According to Kawa, which sells locally made art, beer, wine, and furniture.
Where You'll Stay: Villa Arya is a short stroll to Dubrovnik's top cultural sites. Residence highlights include a heated pool and al fresco dining set for 10. Inside, common areas feature an open layout with a fully equipped kitchen, dining area, and living room decorated with modern, stylish touches. Villa Mare is a newly built single-family residence. Expect a game room, cozy fireplace, an outdoor dining area, and multiple decks with views of Old Town and the Adriatic Sea. Members enjoy an elevator and private parking for four cars, while Old Town and the beach are just a short walk away.
At a Glance: Villa Arya
Bedrooms: 5 | Baths: 5.5 | Accommodates: 10
At a Glance: Villa Mare
Bedrooms: 6 | Baths: 6.5 | Accommodates: 12
SAN SEBASTIAN, SPAIN
Why Go Now: If ever Spain's slower pace of life (siestas, please!) is welcomed, it's now. San Sebastian offers the ultimate balance of fun and relaxation — visitors can explore at their preferred pace, while there's no shortage of amazing food, unforgettable art, and water-inspired adventure.
Must Experience: Get to know the city's extraordinary history and culture via a bike tour. Cycle past the main monuments in Old Town and the city center. If the food scene is more your speed, San Sebastian is famous for its pintxos. Countless restaurants serve this favorite dish, with private walking tours highlighting the finest Basque cuisine. If the water beckons, explore La Concha Bay during a sunset sail, where you'll float past Santa Clara Island.
Where You'll Stay: Located in a residential building across the street from the beach, Casa del Carousel frames direct views of the sea. Located just steps away from Playa de la Concha, the spacious apartment is decorated in a magazine-worthy, modern style. Casa del Rio features large private outdoor spaces overlooking the canal waterfront. A ten-minute walk from the residence reveals Town Hall, the Victoria Eugenia Theatre, the San Martin and La Brexta markets, and the Buen Pastor Cathedral.
At a Glance: Casa del Carousel
Bedrooms: 3 | Baths: 3 | Accommodates: 6
At a Glance: Casa del Rio
Bedrooms: 2 | Baths: 3 | Accommodates: 5
LISBON, PORTUGAL  
Why Go Now: In-the-know travelers will divulge that Lisbon — often overlooked on European itineraries — is a hidden gem. Known for an evolving, buzzworthy food scene, stunning architecture, outdoor adventure, and trendy nightlife, Lisbon has recently enticed transplants from London, Paris, and New York, resulting in new, intriguing stores and galleries.
Must Experience: Plenty of beaches are easily accessed from the sun-kissed city. Learn to surf at nearby Carcavelos and then refuel with a seaside lunch in Costa da Caparica (and if a real surf junkie, make the 1.5-hour drive to the famous swells at Nazaré). Alternatively, cycle along the river, starting in the contemporary Parque das Nações district. As the host to Lisbon's 1998 Expo, you'll discover distinctive buildings from celebrity architects. The Lisbon food scene is something to behold—with star chefs leaving other European outposts to stake their Lisbon claim. Top Portuguese cuisine includes a seat at JNcQUOI Avenida, a hip restaurant housed in a former theater.
Where You'll Stay: Apartamento Colinas is a two-bedroom stunner located in a private building near Lisbon landmarks (including the world's oldest bookstore). Common areas are filled with natural light, while inspired design blends aspects of old and new Lisbon, including a series of local street photography and bookcases fashioned from the building's original floors.
At a Glance: Apartamento Colinas 
Bedrooms: 2 | Baths: 2 | Accommodates: 4
LAKE COMO, ITALY 
Why Go Now: Sure, George Clooney elevated Lake Como's reputation among the jet set, but the area's quieter side offers a serene and sophisticated escape. Set in the shadow of the Alps, Lake Como is surrounded by such charming towns as Menaggio, Bellagio, Varenna, and Tremezzo. Venture to the southwestern tip of the lake and you'll discover the trendy city of Como.
Must Experience: Start each morning with a stroll along the lakeside promenade from Piazza Cavour, and then onto Villa Olmo. Prefer a lung-busting hike? Take the funicular up the mountain to the small town of Brunate and climb a rocky trail to Faro Voltiano, a lighthouse with 360-degree views across Como, the lake, and neighboring Switzerland. Learn about Como's silk history and production process during a visit to the Museo della Seta in Como.
Where You'll Stay: Located on the hilly "Gold Coast" town of Argegno on the western shores of Lake Como, Villa Pendio is a standalone home with lake views. Sleek décor features colorful rugs, lovely artwork, and inspired sculptures. Tucked away in the basement are a large wine cellar and Turkish hammam. Additionally, a sunroom features floor-to-ceiling windows — ideal for an apertivo.
At a Glance: Villa Pendio 
Bedrooms: 5 | Baths: 5.5 | Accommodates: 10